Hi all,
Finding a strange one with my headlights (B7 2006 Audi RS4) they have slight cloudiness and so want to restore them to look like new.
Tried both these highly rated products (see the reviews out of 5), and so many people are uploading great before and after comparisons to show these products work. But trying both, they haven't removed the cloudiness at all. No better, no worse.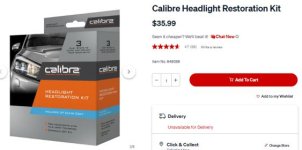 After the 2nd one if tried, the Mothers product, the headlight surface felt super smooth like butter, showing that the top surface has successfully been polished off, where the cloudiness should be.
I'm starting to think the only logical reason they haven't worked, is the cloudiness is on the INSIDE of the headlights??
If so, only fix are new headlights, i.e Exy!!
Any ideas?