Hi, I just joined. I own a 2014 Audi S3 Cabriolet (8v) with every factory option besides electric folding mirrors. Mods include:
Vogtland lowering springs (35mm drop, no coilovers because I have magride). Dogbone mounts, CTS downpipe and cold air intake, high pressure fuel pump, integrated engineering intercooler, NGK spark plugs, Garret powermax 1 turbo (the stock one broke), and it's running Galano ECU and TCU software. Dyno tuned by underground performance. Also Konig Ampliform's (18X8.5) and pilot sport 5 tyres (245/40/18).
I want to sell my OEM wheels and am unsure how much to charge?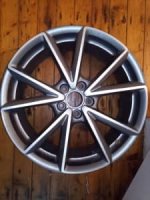 I have 5 of them (4 still with tyres on but not much tread) they are 19X8. Light cosmetic damage but not very noticeable.